Prepaid Visa
Plan and manage your expenses
Add your card to digital products

Carry out contactless payments by adding your card to Apple Pay, BocWallet, FitBit, Garmin and Settle digital products. Fast and secure transactions, wherever you are.

Participation in the antamivi Scheme

The Scheme rewards points for your daily transactions with Bank of Cyprus cards.

Secure transactions

SMS Alert and Push Notification afford greater security.

Contactless technology

You can carry out most safely and easily your daily transactions in minimum time.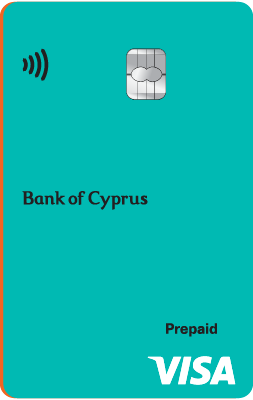 More information
Persons aged 12 and above.

The Scheme rewards you points for your daily transactions with Bank of Cyprus cards. Pick up points each time you use your card with businesses participating in the scheme. You can also redeem points with these businesses, paying less or nothing at all.

Top up your card at our bank branches, ATMs and the 1bank platform.

Yes, you can use both in Cyprus and overseas.

To be informed about Commission & Charges click here