BoC is once again blazing a trail, opening to the public the most innovative bank branch on the island
nk of Cyprus has inaugurated a new model branch, designed to meet the present-day needs of clients and introducing innovative solutions to the Cypriot banking system, both in terms of internal design as well as services provided.
The new branch stands out for its fresh, minimalist design, imparting the sense of professionalism that permeates our organisation. But beyond its modern look, the branch also stands out for the innovative services it provides.
The entrance features a reception area with controlled access, which operates throughout the day providing non-stop and discrete service to corporate and other clients. There are three machines catering to transactions for businesses, and four machines for private individuals.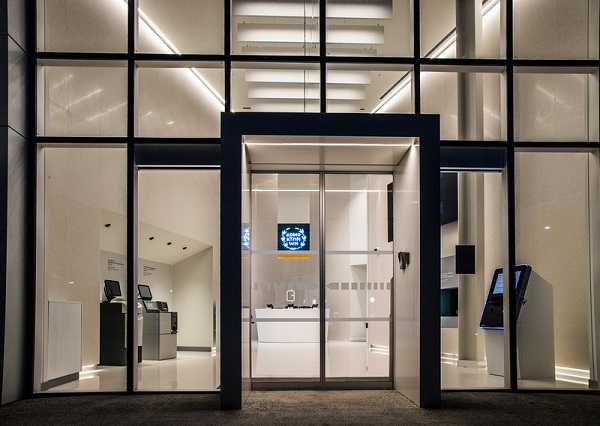 A Meet & Greet point, operational during all open hours, is staffed by specialised staff, welcoming clients and guiding them depending on their needs, or answering any queries.

But there's more: the branch is the first to provide specially configured conference rooms for face-to-face meetings with clients. In this way clients and bank staff alike have a comfortable setting in which to discuss and share views and information.

In addition, and in line with the latest technological trends, all cash transactions will be verified by an e-signature on a pad, replacing traditional pen-to-paper signatures. It's part of the Bank's ongoing drive to go paperless and further improve its environmental footprint.

Bank of Cyprus continues to work diligently toward modernisation, with special emphasis on clients' personalised needs, combining cutting-edge technology with the personal touch.

The new branch is located on a main road in Nicosia, Iosif Hadjiosif Avenue in Strovolos. Access to the branch is easy, and parking is available for clients.
Bank of Cyprus' specialised machines
ΑΤΜ x2

Services: Deposits, withdrawals, transfers, account balances, bank statement printouts.

Business Deposits

Services: Deposits of notes, coins and cheques with the use of special sealed envelopes.

Automatic Business Deposits/ 360 Νotes

Services: Deposits of notes by businesses using a special password entered into the machine.

Automatic Business Deposits/360 Coins

Services: Deposits of coins by businesses using a special password entered into the machine.

Coin Deposits

Services: Coin counting, issuance of a deposit receipt, and automatic deposit into an account indicated by the client on the machine.

Coin Withdrawals

Services: A special machine providing automatic coin withdrawals.