Humans are largely responsible for the decline in bee populations
25 August 2022
"In order to help bees, but also the environment in general, we could live in a more environmentally-friendly way."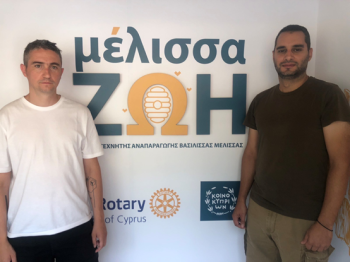 Dr Demetris Kanelis and Dr Vasilios Liolios, scientists specialising in bees and beekeeping, spoke to us about the importance of bees, on the occasion of their visit to the 'Melissa Zoi' Centre for Artificial Insemination of Queen Bees - a joint effort by Bank of Cyprus and Rotary Cyprus providing training in honey-production methods while supporting areas in Larnaca damaged by fires.
When thinking of bees, the first thing that comes to mind is a bee buzzing around flowers in a garden. But that's just one of the important functions of bees.
Bees are vital to humans, as they carry pollen from one flower to another, ensure the production of seeds and continue the life cycle.
Bees don't just help pollinate the flowers in your garden; they also play a major role in the production of the plants that we consume daily.
A large number of plants are pollinated by various species of bees, positively impacting agriculture.
However, frequently we hear how bee populations are under threat by various factors - climate change, residential development, fluctuating temperatures or the overuse of pesticides.
Dr Demetris Kanelis and Dr Vasilis Liolios, two scientists specialising in bees and beekeeping, recently visited Cyprus where they provided training in the techniques used in honey production as well as on many other issues relating to bees.
Their visit took place in the context of the creation and operation of the 'Melissa Zoi' Centre for Artificial Reproduction of Queen Bees - a collaborative effort by Bank of Cyprus and Rotary Cyprus that provides support to mountainous areas in Larnaca damaged by fires.


Going extinct or making a comeback?
Bees are classed among the endangered species. Research shows a dramatic decline - up to 90% - in bee populations. What would be the consequences on plant/animal life and on humans?
Bees existed for millions of years before humans, and they'll still be around. Despite the many mistakes committed which have the survival of bees at risk, we believe that bees will manage to adapt and overcome. But we also recognise that the drop in bee populations is large due to human action, as we meddle with nature. Should bees go extinct, there would occur dramatic consequences - such as human malnutrition.
Let's give an example so that we can grasp just how important bees are. In countries like China, pollination is done by hand, and as a result you get lower production - about a third of current rates.
We don't think matters will come to that, as there are thousands of bee species around. More likely, humans would go extinct before bees would. There are bees which are more resilient than others, and we think that despite the decline in numbers the situation is not that tragic.


Environmentally-friendly lifestyle
What solutions do we have for protecting bees?
If we want to help bees, but also the environment in general, we could live in a more environmentally-friendly way, cut down on the use of certain pesticides, and generally try to eliminate those factors which wreak havoc on beehives. Bees' diets should change, and farmers need to understand that, if they want to increase production, they must turn to a 'greener' way of life and actively engage with beekeepers. We also need to create public beekeeping parks or other similar spaces where we'd plant melliferous crops - something done in the past in Cyprus.
For example, in areas burnt by fires we could create fire-breaks using melliferous plants, which make it harder for a fire to burn through. And we could plant melliferous plants, always in collaboration with the forest service. Creating these fire-breaks yields a double advantage - you protect against fires while also enriching the flora in any given area.
Meanwhile, this would not alter the structure of a forest, because the rest of it will be reforested on its own. Here we could promote collaboration between the Department of Forests and beekeepers.
In addition, it's important to have close cooperation between beekeepers and farmers. Beekeepers are natural conservationists and activists, because they take care of nature and care for bees while earning an income.


Proper use of pesticides
Some activists call for an immediate ban on pesticides, and for boosting alternative forms of agriculture so as to ensure the robustness of bee populations. What do you think?
We'd advise producers and beekeepers alike to make proper use of pesticides. Also, we should educate children from a very young age about the importance of bees and melliferous plants - something which has in fact been going on in Cyprus in recent years. It's important to educate children at primary school, so they can understand how bee pollination helps the environment as well as people. Certainly other pollinators exist in nature, but the bee is by far the most important one.
You've been brought to Cyprus to provide training at the Artificial Reproduction Centre in the village of Odou on a number of issues relating to honey and beekeeping. I understand that the training course begins with a session on the quality of honey. How can you tell when honey is of a high quality, and how does one ensure production of this quality?
If properly handled and with the right techniques, bee honey can be of top quality. The quality from natural processes is already pretty good, so long as beekeepers apply the right techniques, implement proper practices and intervene minimally during the production cycle.
The Artificial Reproduction Centre in Odou has the right equipment for the task, and we think that the centre's creation and staffing are to be commended. So we have both the facilities as well as the appetite from local youths working in beekeeping and who are trying to restore the area from the ashes.


Top-quality honey
Some people think that the more expensive honey is that produced in smaller quantities and is under high demand by consumers. So for example in Cyprus, thyme honey is more expensive than other types of honey. Is this accurate, and how do we ensure both high quality and attractive pricing?
All honey, from the point of view of diet and quality, is of about the same value; types of honeys have their pros and cons. From then on, it depends on people's taste. But the top-quality honey is that which is unprocessed, where no human interference has occurred. In Cyprus, like in the islands of the Aegean, the climate is conducive to making excellent-quality honey. The price depends on the type of honey and on production quantities in any given country. The best honey is that which we like. Regardless, it's paramount that the honey be produced with the right beekeeping practices.
What did you think of the Artificial Reproduction Centre in Odou?
We think that the centre, established by Bank of Cyprus and Rotary Cyprus, is important in providing training to those engaging, or wanting to engage, with beekeeping. We've launched a series of lectures which have already attracted a great deal of interest. The first theme was on what it takes to engage in artificial reproduction, and quality analysis. In September attendees will be instructed in the ways of artificial reproduction and honey analysis, both in theory and hands-on. We believe that this training will support ongoing efforts in the areas affected by the fires, but will also boost the role of the centre in the broader area.


Who's Who - Two scientists dedicated to bees
Demetris Kanelis is PhD Agronomist in Horticulture, with a specialisation in apiculture. He graduated from the Agronomy Department at the School of Agriculture, Forestry and the Environment, Aristotle University of Thessaloniki. He has been a research fellow at the Apiculture-Sericulture laboratory since 2009, participating in a number of research programmes. His doctoral thesis was on the qualitative criteria of royal jelly and the impact of bee diets on the physical-chemical attributes of royal jelly. The results of the research generated the data used to establish the national qualitative standards for royal jelly of the state Supreme Chemical Council. In recent years he has taught at the Aristotle University of Thessaloniki and the University of Thessaly on an academic scholarship or on a fixed-term contract.
Vasilis Liolios has a PhD in Horticulture and Viticulture, with a specialisation in apiculture. He graduated from the Agronomy Department at the School of Agriculture, Forestry and the Environment, Aristotle University of Thessaloniki. His postgraduate studies and doctoral thesis were in the field of bee diets and mapping out the apicultural flora. During his postgraduate and doctoral studies he became well versed in spectroscopic and chromatographic (HPLC– GC) techniques analysing apiculture products. He has been a member of the accredited staff at the beekeeping laboratory, where he has worked as an analyst since 2009. As a research fellow he has participated in various programmes focusing on apicultural flora, bee diets, training beekeepers etc.