APOEL Classic Credit Visa
Get discounts, support your team
Add your card to digital products

Carry out contactless payments by adding your card to Apple Pay, BocWallet, Fitbit, Garmin and Settle digital products. Fast and secure transactions, wherever you are.

Discount on purchases

15% discount on the purchase of products from the Orange Shop.

Interest-free period

Interest-free period –from 20 to 40 days– when you settle the full amount of your card account.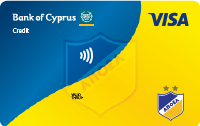 More information
Fans and friends of APOEL.

earn double points in the APOEL FC Loyalty/Membership scheme with any purchase from the Orange Shop.
earn 100 points in the APOEL FC Loyalty/Membership scheme with purchase of a season ticket.
earn 100 points for first-degree relatives (e.g. child, wife, brother, sister) when purchasing their own season ticket.
15% discount on the purchase of products from the Orange Shop.
participation in Card Scheme Draw.

Both in Cyprus and overseas.

You are entitled to an interest-free period of 20 to 40 days when you repay the full balance of your card account.

The advanced technology of contactless transactions enables you to carry out most safely and easily your daily transactions in a minimum of time. Moreover, SMS Alerts or Push Notifications provide further protection to your card payments.

To be informed about Commission & Charges click here