Fitbit Pay
The Fitbit Pay offer you safest, fast and contactless transactions from wherever you are. Without carrying your wallet, cash, cards or phone with you.
Ηow it works
Add your Visa and Mastercard cards to your Fitbit device - compatible tracker or smartwatch.
Download the latest version of the Fitbit app on your smartphone, and make sure your Fitbit device is fully charged.

Open the Fitbit app on your phone and go to your Fitbit device settings.

Tap "Fitbit Wallet" and follow the instructions to add your card.

If you haven't created a PIN code for your watch, you will be asked to set one.

Enter your card details.Read and accept the Terms and Conditions.

Enter the One Time Password (OTP) sent by SMS to your mobile phone.

Once the process is completed, Fitbit Pay will sync the activated card to your Fitbit device.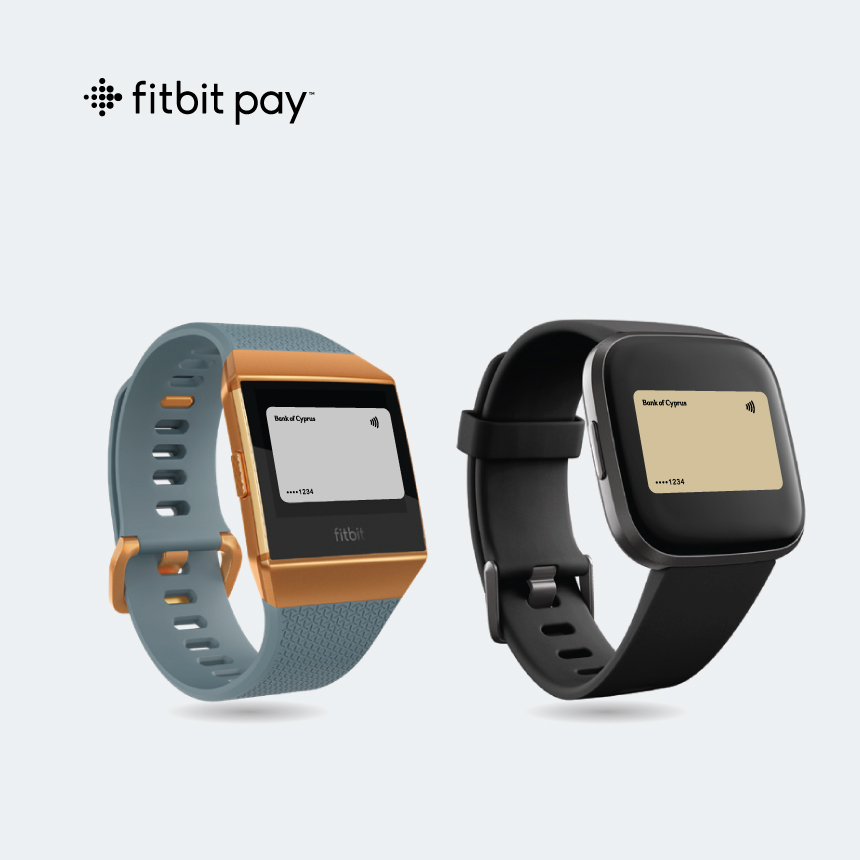 More information
On your Fitbit device, enter the 4-digit pin once and it will remain activated for 24 hours or till the time you take off the Fitbit device from your wrist.
With just a press of a button and tap, you can make your payment by placing your watch near the card reader terminal.
After making a payment, you will receive confirmation on your watch and a push notification on your phone, with details concerning your transaction.
You can monitor all your recent Fitbit Pay purchases and manage your cards through the app.

You can use FitbitPay anywhere you see the contactless symbol.

Manage your cards from either your Fitbit app or Fitbit device. Add or remove cards and set menu defaults from the app dashboard. Keep track of your latest spending from the app and store up to 6 cards.