Credit Visa and QuickCard
A bundle of privileges for income earners
Add your card to digital products

Carry out contactless payments by adding your card to Apple Pay, BocWallet, Fitbit, Garmin and Settle digital products. Fast and secure transactions, wherever you are.

Participation in the antamivi Scheme

The Scheme rewards points for your daily transactions with Bank of Cyprus cards.

Priority Pass

If you are a Platinum cardholder, you can obtain a Priority Pass card and gain access to 600 lounges in 300 cities in 100 countries.

Free Travel Insurance

You are eligible for free travel insurance when using the card to pay for your trip.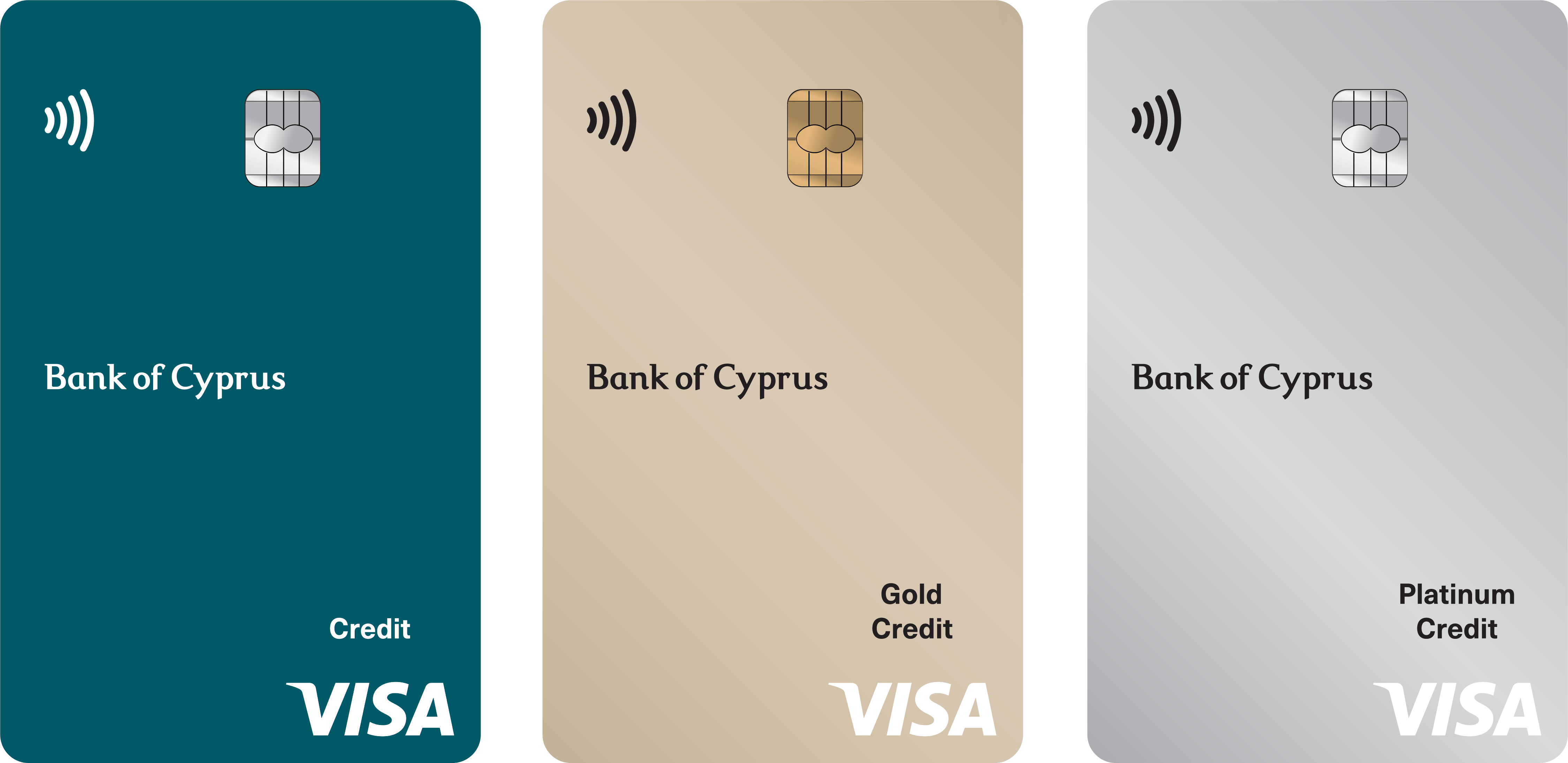 More information
The Credit Visa classic card is geared at those on a steady income; the Gold and Platinum cards at those on high incomes.

The Scheme rewards you points for your daily transactions with Bank of Cyprus cards. You pick up points each time you use your card with a business participating in the scheme. You can also redeem your points at these businesses, paying less or nothing at all.

Platinum cardholders are eligible for a Priority Pass card, which affords access to 600 lounges in 300 cities in 100 countries. Priority Pass holders must present their card when entering airport Lounges (where the Priority Pass sign appears). The charge is €24 per person per visit.

Customers registered to the Save a la Card scheme, can save money, by just using their card. (The Save a la Card scheme does not apply to new issued cards, or to cards connected with existing Save a la Card account.)

Credit limits vary according to your needs and financial standing.

The advanced technology of contactless transactions enables you to carry out most safely and easily your daily transactions in a minimum of time. Moreover, SMS Alerts or Push Notifications provide further protection to your card payments.

To be informed about Commission & Charges click here

How do I know if I am eligible to apply?

The facility is offered to permanent residents of Cyprus only. If you are not a permanent resident of Cyprus for the last year, contact your servicing Branch to find out your options.

How can I check the status of my application?

You will be informed via a message on your mobile of your application status.

What supporting documents do I have to submit?

A proof of income may be requested within the online procedure.

Are there any fees associated with the application?

QuickCard products are offered without any initial bank charges (arrangement or documentation fees). Membership fees apply based on the type of the card. You can check the Table of Commission and Charges.

What does the automated assessment of my application, the automated decision-making and the automated processing of my personal data and profiling involve?

Applications for QuickCard products are assessed electronically based on your creditworthiness, repayment ability and the Bank's credit policy as applicable from time to time.

The decision for the approval or rejection of the online credit application will be reached by processing your personal data using solely automated means (including profiling), without human involvement, and only after we have your explicit consent to do so.

Profiling under this procedure involves the automated processing of your personal data to analyze, evaluate and predict your creditworthiness and ability to repay the facility.

The Bank will use only the necessary information that will allow the assessment of your creditworthiness and repayment ability and to make responsible, fair and informed lending decisions.

The Bank will use information that you provide, as well as information derived from the Bank's internal sources (that is your personal and contact details, employment, income, expenses, family structure, spending habits, conduct on other accounts / facilities / guarantees / securities, payment arrears on other accounts / facilities, judgement debts, whether your personal data has been verified and updates for anti-money laundering purposes) and external sources (that is bankruptcy records, i.e. arrears, non-performing facilities and judgement debts at other banks from Artemis Credit Bureau).

The application may also be automatically referred to the Bank for further evaluation by an officer.

Do I have the right to object to the automated decision?

Yes, you have the right to request re-examination of the application by a Bank's officer by contacting your servicing Branch.

Can I withdraw from the application process at any time before submitting it or after a decision is reached by the Bank?

You can withdraw your application at any time. If you have entered any information, you have the choice to save it and resume with the application at a later stage or discard it. If you choose to discard it, the information you entered will not be saved. Your application will be automatically discarded if you remain inactive for 15 days.

If a decision is reached by the Bank, you can still withdraw your application at any time before entering into a contract for the granting of the facility. This does not affect your other rights regarding the processing of your personal data.

You can also withdraw from the contract within a specified timeframe and subject to certain conditions. More information on your right to withdraw from the contract will be provided in the pre-contractual information for the credit facility which will be made available to you, as well as in the agreement for the granting of the facility.

How is Bank of Cyprus protecting my privacy and handling my personal data?

The Bank is committed to protecting your privacy and handling your data in an open and transparent manner. You can learn more in the Bank's Privacy Statement, where you can also find further details on your rights, for example your right of access, right to request correction / rectification, the right to lodge a complaint etc.

What happens after approval?

After approval you will be notified for the preparation of the contractual documentation for the granting of the facility via a message on your mobile. The signing of the contractual documentation will take place at your servicing Branch, unless indicated otherwise.

How fast can I have access to the card limit?

If approved, the limit will become available to you the working day following the signing of the contractual documentation at the latest.

How can I pay the monthly card amount due?

You are highly advised that you have a direct payment order for the repayment of the instalment from your account. If you don't have an account, you can open one via our digital channels or at your servicing Branch. Cash payments can also be done through the Bank's Branches, ATMs or through transfers from your accounts in Bank of Cyprus or other Banks.

Do I have to pay any membership fee for having a Credit Card?

Yes. The card is charged with a membership fee at the opening of the account. The membership fee is charged monthly or yearly based on the type of the card. For more details regarding the frequency and the amount of membership fees you can check the Table of Commissions and Charges.

What do I need to know about card repayments?

You can provide instructions in writing, so that your monthly card repayment is paid automatically from your account. You can choose to repay the full balance of your statement or a percentage of it that you can select yourself. You can make additional deposits any time in cash or through transfers from your Bank of Cyprus accounts or from other Banks.
Monthly repayments should be made on the date specified on the statement. Delayed payments incur additional costs.
You can always request a change of the percentage you want to repay. This shall be done in writing. Instructions shall be delivered to your servicing Branch.

How will I get my card and pin?

You shall receive your card at the mailing address shown in the Bank's records. Note that you can modify this if you wish during the application process.

Your pin will be available to you through your BoC mobile app.

I am not a customer of the Bank. Can I still apply?

Yes. You can download the BoC mobile app and register. Then, you will be able to connect to 1Bank (Terms and conditions apply). You can apply for the facility either via 1Bank or via the BoC mobile app.